Wine Clubs
Are you interested in becoming a Longshadow Ranch Wine Club member but do not want to spend $70-100 every other month? Come by our tasting room and ask about our brand new PREMIUM CLUB! Receive unlimited tastings (1 person per membership) for a low monthly fee of $19.99!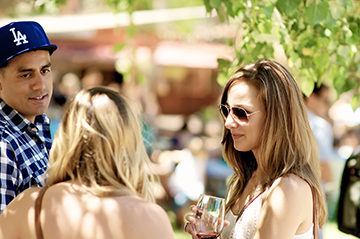 Join the Longshadow Ranch Wine Club and get two bottles* of our wine shipped to you every other month. We strive to offer the very best in value and service to our wine club family. Now you can enjoy our family oriented ambiance, special events, live music on weekends, FREE premium wine tasting, and 15% discount on wine purchases. We also offer greatly reduced pricing on facility fees for weddings and other private parties and special events that you may be planning. It's easy to see why we have the fastest growing wine club in the valley!
Membership Guidelines
We realize that nothing lasts forever, and would like to explain further to you how our wine club works in the event that you need to cancel your membership.
We are asking that you remain on the club for a minimum of three shipments with an active and current credit card. Your account will be charged automatically every other month for two bottles plus shipping and handling, if any (you may pick up your wines at no charge).
An early cancellation fee of $29 will be incurred to offset purchase discounts, free wine tasting, event discounts and entry, merchant service fees and processing. There is no cancellation charge after the minimum term has been met.
In the event that you would like to cancel your membership, you must:
1. Email us at clublongshadow@gmail.com with your name, email, and phone number. Please ensure that your intent to cancel is stated within your email. We will email you back as soon as your wine club membership has been cancelled.
Come by our tasting room or call 951-587-6221 and sign up today!
* White wine club includes THREE bottles of wine